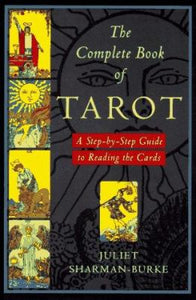 The Complete Book of Tarot: A Step-By-Step Guide to Reading the Cards
Regular price $14.99 Sale
Tarot cards are like mirrors that reflect unsuspected knowledge buried deep in the unconscious mind. This teach-yourself guide to reading the cards is designed to help activate and stimulate your innate sensitivity as a first step in developing intuition-the hallmark of the serious Tarot reader.
Written by an expert Tarot teacher and trained therapist,
The Complete Book of Tarot
takes you through the cards, uncovering clues to the historical, mystical, and psychological spirit of this ancient system of revealing past, present, and future. Juliet Sharman-Burke teaches you how to read them and interpret their divinatory significance.
Whether you want to interpret the cards for others, or use them to help gain a much deeper understanding of yourself, you will find
The Complete Book of Tarot
both instructive and inspiring.