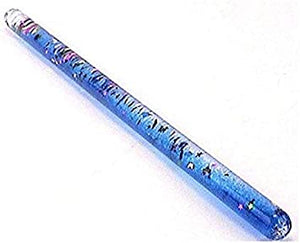 Glitter Wand, Magic Wonder Tube - for Kids, Teachers, Therapists, Sensory Room, Classroom, Talking or Pointing Stick, Pool Floats, Autistic, ADHD, SPD. Jumbo Size. 11 Inch Wonder Wand (Blue)
Regular price $0.00 $9.98 Sale
Details: Each of these uniquely designed wands will keep your kids intrigued and stimulated. Great parenting tool to calm down before bed time, encourage focus and attentiveness before activities that require concentration. Soothing colorful swirls creates a sense serenity and calm. Very suitable for people who suffer from stress and anxiety. Highly appropriate for autism, ADHD and SPD, alzheimers, down syndrome. Size: 11" X 0.5" dia. Compatible with: 6" and 9" kaleidoscopes.
Features:
ENDLESS BENEFITS - moving shapes of glitter and confetti as well vibrant colored sand forming rich patterns encourage attentiveness and attention to detail. Mesmerizing designs stimulate imagination. Swirling smooth slow motion has a serene calming affect. Bright cheery colors encourages positive emotions and visual stimulation. Introduce your kids or students to elementary physics concepts such as 'cause and effect'.
DESIGNED FOR DURABILITY AND YOUR SAFETY - hard plastic prevents cracks and leaks. Rounded edges without sharp points, no glass components. Designed for toddlers to easily grasp with their hands. Damage resistant for normal usage.
Size: 11" X 0.5" dia. Compatible with: 6" and 9" kaleidoscopes.Flip the 11 inches long wand back and forth and watch the glitter float to the bottom.
MULTIPLE USES - toy fun for children, classroom pointers, pool floats, aids for sensory rooms, occupies kids for travel trips. Positive parenting tool for 'quiet time', or 'calm down time' before bed. Dress-up fun: magician, wizard, witch, Halloween.
These glitter wands, send moons, stars and more twirling and swirling in a sea of color with these beautiful wands.Size: 11" X 0.5" dia. Compatible with: 6" and 9" kaleidoscopes.
Brand: Star Magic
Color: Purple/Gold
Package Dimensions: 3.9 x 3.9 x 2.8 inches
Binding: Toy