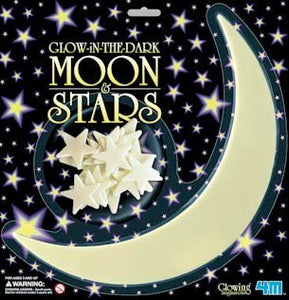 Glow-in-The-Dark Moon and Stars
Features:
Glow in the dark Large Moon and Stars
Includes - 1 Large Moon(11.5") and 12 Stars (4 Sets)
Stick them to your wall or ceiling. Expose them to a light source and then turn off the lights
Glow like magic in the darkness. Perfect for ages 3 and up
Details: ring the beauty of the night sky into a child's bedroom with 4M Glow-In-The-Dark Moon and Stars. Decorate the walls and ceiling of a child's room with these soft foam glow-in-the-dark objects. This set includes one (1) 11.5-inch crescent moon and twelve (12) assorted stars. Adhesive for attaching the stars is included. Perfect for young space enthusiasts, or a child that is anxious about sleeping in the dark. Recommended for ages 3 years and up.