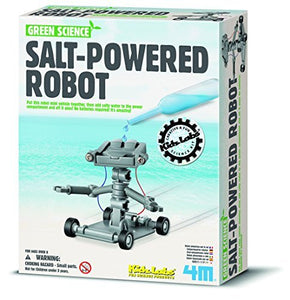 Salt Water Power Robot
Regular price $0.00 $12.99 Sale
Details: Challenge your child's imagination with the 4M Salt Water Powered Robot Kit. Perfect for any young scientist, this fun kit teaches robotics and the value of alternative energy sources. Once assembled, this robotic racer is powered by the safe, non-toxic chemical reaction of salt water and charcoal. Fostering creativity and mechanical skill, this kit also provides an excellent opportunity to show kids how toys are assembled and function. This set includes necessary components, accessories, and easy-to-follow instructions. Recommended for ages 9 and up.
Features:
This robot kit is a hands-on learning experience that illustrates the value of alternate energy sources.
The robot is powered by the chemical reaction of salt water and charcoal, and is safe and non-toxic.
This kit contains all the parts and materials needed to create a salt-water powered robot.
Detailed assembly instructions included.
Recommended for ages 8 years and up.