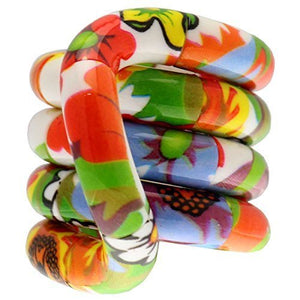 Tangle Junior Smooth - Artist Collection Design (Tropical) by Tangle
Regular price $0.00 $0.00 Sale
Details: This art-inspired series is a must-have for your Tangle Jr. collection! With stunning colorful prints, these Tangles are sure to inspire the artist within! Reduce stress naturally with this twistable Tangle in artistic design. It's a twisty, fun way to get stress relief and hand, joint and muscle therapy. It's even recommended as a stop smoking aid. Instead of doodling or fidgeting, use the Tangle while you talk on the phone or listen to a conference call. Buy several and connect them to make a long wild Tangle snake. Touch it, twist it, turn it, and get hand and mind wellness. The perfect stress reliever is a therapeutic sensory toy. It's versatile form makes it a delight to manipulate. Builds concentration and fine motor skills through play It?s a sensory toy for relaxation, fine motor development, and play. Fits in your hand for single handed manipulation. Many children will focus better and absorb things more quickly if they have something to do with their hands. Tangles are a wonderful toy for children (and adults) to play with on trips in the car, on a plane or anytime. Tangle is a perfect way to relax. As it slips through your fingers and knots up in your hand, you can feel your body's tension release. Children (and adults) of all ages love to Tangle. It provides something to do during travel or quiet times. It stimulates your brain as it helps increase finger dexterity. Not suitable for children under 36 months due to small parts. Each Tangle is approximately 7" long when connected, each link is approximately 1" long. When disconnected, the Tangle measures approximately 15" end-to-end. Plastic with multiple colored links. Order is for ONE Tropical Tangle Jr. Artist.
Features:
GET CREATIVE: Tangles are the perfect way to express your creative side in a whole new light. Attach them however and mold them into whatever you'd like.
KEEP BUSY: If you or your child can't stand sitting with idle hands, this is the perfect solution for waiting rooms and car rides alike. Super fun and super portable.
QUALITY MADE: Tangles are meant to be taken apart, put back together, and used over and over so they've been made to the highest standards so you can get use after use out of them.
PUT DOWN THE ELECTRONICS: If you're trying to get your child away from a tablet or phone, this is a great non disruptive solution to your gadget problem.
Order is for ONE Tropical Tangle Jr. Artist.
Brand: TANGLE
Color: Tropical
Package Dimensions: 2.6 x 2.6 x 1.8 inches
Languages: English
Binding: Toy